Information referring to tourists is displayed within our Tourist Information section.
Area: 947.300 sq km (mainland Tanganyika 885.800 sq km, Zanzibar Archipelago with Mafia 2.500 sq km, water (lakes) 59.000 sq km).
Location: Eastern Africa, just south of Equator; (Longitude between 29 degrees and 41 degrees East of Greenwich, Latitude 1 degrees and 12 degrees South of Equator). Kenya sits astride the Equator, which borders with Tanzania. Tanzania also shares borders with Uganda; Democratic Republic of Congo, Burundi and Rwanda in the west; Zambia, Malawi and Mozambique in the south and Indian Ocean to the east.
Altitude: Central plateau: from around 1200 m above sea level (metric converter).
Highest point: Mt. Kilimanjaro (5895 m).
Lowest point: Lake Tanganyika (358 m below sea level).

Landscape:
Central mainland consists of a central plateau covered with huge expanse of savannah and sparse woodland;
Throughout the interior runs the Great Rift Valley which has created many fascinating topographical features such as the Ngorongoro Crater and Lake Tanganyika.
Mountain ranges are grouped on the north-eastern section (the Eastern Arc), and a central and southern section (the Southern Arc).
Coastal area: 1400 km long, blossoming and palm-fringed with islands of Zanzibar (Unguja Island), Pemba and Mafia;
Largest river: Rufiji.
Major lakes: Lake Victoria, Lake Tanganyika, Lake Nyasa (Malawi).

Climate:
Tropical, with average temperature in coastal area from 26–31 degrees Celsius with hot days cooled by see breezes (metric converter) and in central plateau from 20-27 degrees Celsius with hot days and cool nights.
There are two rainy seasons: longer (masika) from mid March to May, and short (vuli) in November. The hottest months are from October to February.

Population:
2018:

55 million people with 51% of women and 44% under age 15. National growth rate 2.7%;

2014

: 49 million people with 51% of women and 44% under age 15. National growth rate 2.8%; 2004: 36 million people with 51% of women and 46% under age 15. National growth rate 1.72%.
2018: Life expectancy at birth is 63.1 years (male 61.6 years, female 64.6 years);

2014

: Life expectancy at birth is 61.24 years (male 59.91 years, female 62.62 years); 2004: Life expectancy at birth 44.5 years (male 43.3 years, female 45.8 years).

There are more than 130 tribes;

larger include Sukuma, Nyamwezi, Makonde, Haya, Chagga; smaller ones include Maasai, Haadzabe. There is also an important Asian and Arabic population.

Capital: Dodoma (administrative capital).
Other Major Cities: Dar es Salaam (business capital; population 6 million – 2018 est.), Mwanza, Arusha, Mbeya, Bukoba etc.
Language: Official languages are Swahili and English; tribes also speak their own languages.
Literacy: 78% of total population aged 15 years and over can read and write Swahili (Kiswahili), English or Arabic.
Religion:
Christian: 60%
Muslim: 35%
Hindus, Sikhs, indigenous beliefs etc.; Zanzibar: 99% Muslim.

Currency: Tanzanian Shilling (TZS), which is divided into 100 cents. Paper notes: 10.000, 5.000, 2.000, 1.000; Coins: 500, 200, 100, 50, 20, 10, 5 and 1.
Government: Multiparty Democracy with CCM (Chama Cha Mapinduzi; Party of the Revolution) as a current Ruling Party.
Head of State:
President (elected in 2015): Dr John Pombe Joseph Magufuli

National Flag: Black for the People, Green for the Land, Blue for the Adjoining Sea and Golden for the Mineral wealth.
Time Zone: GMT + 3 hours with no daylight saving.
International Dialing Code:
County Telephone Code: +255
International Exit Code: 000

Internet Domain: .tz
Electricity and Plugs: 230 V, 50 cycles, AC; in general the plugs are British three-square-pin and two-round-pin. Adapters are available.
National Resources:
Minerals: gold, diamonds, tanzanite and other gemstones, nickel, iron, coal, natural gas, spring water, soda ash, salt;
Wildlife and Tourism: 12 National Parks, the Ngorongoro Conservation Area, 13 Game Reserves, 38 Game Controlled Areas, about 120 National Cultural Heritage Sites.
Forestry and Beekeeping: non-reserved forest-land (1,903.8 sq km), forest/woodlands with national parks etc. (200 sq km), and gazetted forest reserves (1,251.7 sq km).
Fisheries: in three large lakes (Lake Victoria, Lake Tanganyika, Lake Nyasa), Indian Ocean coastline, rivers and wetlands the potential yield of fish is estimated to be 730.000 tons annually (present catch is 350.000 tons annually).

GDP: 3200 US$ per capita (2017); 1900 US$ per capita (2014); 270 US$ per capita (2004).
Major Exports: Agriculture: coffee, tea, cotton, cashew, sisal, cloves. Minerals: gold, diamonds, tanzanite and other gemstones, nickel, iron, coal.
Distances: Tanzania is a large country (twice the size of California; 3-times the size of Italy) and distances between cities or national parks can be lengthy.
Here you will find information to help you get ready for your memorable visit to Tanzania! It is a rather large section, as we wanted to group as much information as possible. More information about Tanzania is available in our Facts & Figures or FAQ sections; if the information you need cannot be found, please do not hesitate to contact us! We will do our best to assist you.
Planning a Trip:

Tropical Tanzania can be visited during the whole year. The hottest months are from October to February, with a short rainy season (vuli) during November. The longer rains (masika) start in the middle of March and last until May. Contrary to people's belief it is not pouring all day long; rain showers are usually in the evenings, during the night and in the early mornings. It can get cooler though, especially at night and at higher altitudes (Ngorongoro, Mt. Kilimanjaro, Mt. Meru). The coolest and driest months to visit are between June and October.
Generally the 'high season' with more expensive accommodation and air-fare rates lasts from June till March. The 'low season' is during the 'masika', from March/April until May/June, and at that time you will often be able to save considerably on accommodation expenses. But do note that some lodges and hotels close during that time for annual maintenance.
If you are wondering what to bring for trekking or safari, take a look at our recommended list (FAQ section). There is no need to bring too much clothing, as laundry services are available in most accommodation properties. Also some airlines limit their complimentary luggage allowance to only 15-20 kg (metric converter).
Do not forget to bring your camera and enough memory cards (with replacement batteries) to ensure to make your trip memorable; also remember to protect your equipment from dust on safari and from cold on your trekking.
The use of drones is not allowed unless a special advance permit is approved by the Tanzanian Ministry of Defense. Without requested permit, drones can be confiscated at the point of entry. Drones are strictly prohibited inside the national parks!
VERY IMPORTANT – BAN ON PLASTIC CARRYING BAGS came into effect on 1st June 2019.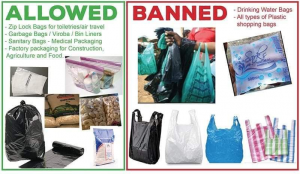 Government of Tanzania issued an official notice (read notice here) to all travelers planning to visit Tanzania that from 1st June 2019 all plastic carrier bags, regardless of their thickness will be prohibited from being imported, exported, manufactured, sold, stored, supplied and used in Tanzania. However, plastic or plastic packaging for medical services, industrial products, construction industry, agricultural sector, foodstuff, sanitary and waste management are not prohibited. Visitors are advised to avoid carrying plastic carrying bags in all their luggage (checked-in and carry-on) before embarking on visit to Tanzania. Plastic carrier items known as "ziploc bags" that are specifically used to carry toiletries will be permitted as they are expected to be in a permanent possession of visitors and are not expected to be disposed in the country.
Activities:

What can you do and see in Tanzania? Almost anything you desire! It is a home of "safari", the word in Swahili language meaning "the journey". It is a place to see the endless herds of Wildebeests and Zebras rambling across the plains on their annual migrations, chased by Lions, Leopards, Cheetahs and Hyenas! It is an Elephant country, with some of the largest populations in the world, and home to Chimpanzees, so rarely seen in the wild nowadays. Enthusiastic bird-lovers will discover a paradise with more than 500 different species to be observed in some parks.
The Great Rift Valley, stretching in the middle of the country, has created many fascinating topographical features, former volcanoes, which you can trek (Ngorongoro) with one of them still active (erupting daily), the Maasai "Mountain of God", Ol Doinyo Lengai. Do not forget Mt. Kilimanjaro reaching 5895 m (highest peak of Africa) in all its majesty representing the ultimate challenge to every adventurer.
Tanzania possesses stunning beaches – hundreds of miles of palm-fringed sandy beaches of the mainland Tanzania (Tanga, Pangani, Bagamoyo, Dar, Kilwa) and the exotic islands of Zanzibar (Unguja Island), Pemba and Mafia. White sandy beaches are synonymous with relaxation. Come for diving or snorkeling or just relax and swim in the warm, inviting Indian Ocean. Observe the amazing 'underwater world' and incredible coral reefs. Zanzibar is one of the rarest places in the world where corals are still alive in volume. Maybe catch an exotic fish or two – the choice is huge including yellowfin tuna, kingfish, marlin, barracuda, horse-mackerel, sailfish, rock cod or wahoo. Shore fishing or deep sea fishing is a trilling sport.
Enthusiastic golfers can play the game, as Tanzania offers many excellent courses.
A valid passport is considered to be the one with at least one empty page for visas and expiry date at least 6 months after your arrival.
Most visitors require a visa when entering Tanzania with exception of citizens of certain Commonwealth countries. If you did not secure your visa in advance (from Embassies or High Commissions), you may obtain it at all points of entry (International Airports (see next section) and bigger land borders: Sirari, Namanga, Taveta, Horohoro with Kenya; Mutukula with Uganda; Rusumo with Rwanda; Kabanga with Burundi; Kasesya and Tunduma with Zambia; Mwandenga with Malawi and Kalambo with Mozambique). Visa needs to be paid in US$ dollars, with 2009 and younger bills. The fee may vary and is liable to change but for most visitors amounts US$50 (same for adults and children); USA citizens are currently charged US$100 (bilateral agreement). Please note that NOT everybody can obtain a visa at Tanzania entry point – it is allowed for the citizens of EU and European countries, the USA, Canada, Japan, Australia, New Zealand and a few others.
Proof of yellow fever vaccination is officially required upon your entry into Tanzania, if you are coming to East Africa from a yellow-fever-endemic area (most of the sub-Saharan Africa) or spending over 12 hours in transit in yellow-fever-endemic countries. The same applies for cholera. IMPORTANT UPDATE: from 11 July 2016 the certificate of vaccination against yellow fever is valid for the life of the person vaccinated. This lifetime validity applies automatically to all existing and new certificates, beginning 10 days after the date of vaccination. Accordingly, as of 11 July 2016, revaccination or a booster dose of yellow fever vaccine will not be required for international travellers as a condition of entry into a State Party, regardless of the date that their international certificate of vaccination was initially issued. Read more: https://www.who.int/ith/updates/20160727/en/
If you consider driving in Tanzania, the best option is to acquire an International Driving Permit before leaving home (if your visit is going to be more than a month!). Please note that driving is on the left side!
Students will benefit with an International Student Identity Card on train fairs, airline tickets, entries to museums and archeological sites.
It is essential that you arrange individual Travel Insurance covering personal accident, medical expenses and repatriation, trip cancellation, theft and loss of personal effects.
Before departing remember to make copies of your important travel documents (in case originals get lost or stolen) – passport, airline tickets, health card, insurance and other documents. Leave one set of copies at home with your family or friends (or scan them and email to yourself so you can check worldwide); one copy bring with you but do not keep together with the originals.
Citizen of the countries of the European Union, who do not have an Embassy or High Commission of their own country in Tanzania, can turn for help to an Embassy or High Commission of any EU country.
International Airports

, Taxes, Customs:

In Tanzania there are currently four International Airports: Kilimanjaro International Airport (also known as JRO or KIA), Dar es Salaam International Airport (DAR), Mwanza (MWZ) and Zanzibar International Airport (ZNZ). An airport departure tax of 30 US$ is levied and has to be paid in convertible foreign currency; often it is included in the price of an air ticket. When traveling between mainland and Zanzibar (either by plane or ferry), a 5 US$ departure tax may be charged. Visitors can bring foreign currency into Tanzania (currency declaration in excess of 10.000 USD is required); however import and export of the local currency (Tanzanian Shillings) is illegal.
The following items are tax free when entering Tanzania: one litter of spirits, 200 cigarettes or 50 cigars or 250g of tobacco, and 250ml of perfume. It is illegal to export ivory, and wildlife products, seashells and turtle shells in any form (even simple jewellery). When buying valuable gemstones, remember to obtain receipt an certificate of origin and authenticity; you can be asked to present it to the custom officials on your departure.
Insurance

: It is highly advisable to obtain insurance covering theft, loss, illness and injury. Please assure that your medical insurance covers also an emergency flight home. If you need to make a claim, remember to keep all the receipts and documentation; in case of theft, you must obtain an official police statement.
01 January

New Year

12 January

Zanzibar Revolution Day
Karume's Day (Zanzibar)

30 March 2018
19 April 2019
10 April 2020
02 April 2021
15 April 2022
07 April 2023

Good Friday

02 April 2018
22 April 2019
13 April 2020
05 April 2021
18 April 2022
10 April 2023

Easter Monday

26 April

Union Day

16 May 2018
06 May 2019
24 April 2020
13 April 2021
03 April 2022
23 March 2023

The beginning of the holy month of Ramadan
(it depends on the moon sighting)

01 May

Workers Day

14 June 2018
04 June 2019
23 May 2020
12 May 2021
02 May 2022
21 April 2023

Eid al-Fitr
(it depends on the moon sighting)

Saba Saba (77) Day

22 August 2018
11 August 2019
31 July 2020
20 July 2021
10 July 2022
29 June 2023

Eid al-Kebir (Eid al-Haji)
(it depends on the moon sighting)
Nane Nane (88) Farmers' Day

14 October

Mwalimu Nyerere's Day and Climax of 'Uhuru Torch Race'

21 November 2018
10 November 2019
29 October 2020
19 October 2021
08 October 2022
27 Sept 2023

Eid al-Moulid (Maulidi)
(it depends on the moon sighting)

09 December

Independence Day

25 December

Christmas Day

26 December

Boxing Day
Local Time:

Time in Tanzania is GMT plus three (3) hours throughout the year. Local people generally use their 'Swahili time,' which is set six hours ahead the normal western time; therefore 12 o'clock in Swahili time (saa kumi na mbili) is in fact 6 o'clock western time. It is not as confusing as it sounds, the easiest way is to add six hours or just to turn your watch upside down and pay attention when asking people for time. Usually if they answer you in English, they will be telling you the western time (in Swahili time they always use saa meaning 'an hour'). If you are a punctual type of a person you may regularly get frustrated when in Africa. Things take time in Africa; people are not in a rush and to fully enjoy your vacation you just have to accept that. We of course are not referring to our time keeping and services in this instant 😉
Money & Costs & ATMs:

The local currency is Tanzanian Shilling, Tsh/TZS, which is divided into 100 cents. Paper notes: 10.000, 5.000, 2.000, 1.000; coins: 500, 200, 100, 50, 20, 10, 5 and 1. Most prices are quoted in Tsh/TZS except for tourist services including safari, accommodation, park entry fees, car rental, flights. Visitors can bring foreign currency into Tanzania (currency declaration in excess of 10.000 US$ is required); however, import and export of the local currency is illegal. Most of the major currencies, especially US$ dollars, are accepted and can be exchanged in banks, exchange offices and most of the hotels.

IMPORTANT NOTE:

US$ cash notes older than 2006 (and 100 US$ notes older than 2009) are not accepted in Tanzania; also exchange rate for 50 and 100 US$ notes is higher compared to 20, 10, 5 notes, and substantially lower for 1 US$ notes. Major credit cards (VISA, MasterCard) are acceptable in most of the hotels, restaurants, bigger supermarkets and some airlines, with 5-10% bank service charge add-on. 24-hour ATMs accepting Visa, Visa Electron, MasterCard, Plus or Cirrus are located at most bank branches in all major cities and town (CRDB; NMB; Exim Bank; Barclays Bank; Standard Chartered etc). Do note that daily limit of the ATM machines is approximately 250-300 USD per day per card even if you posses a card with no limit! For receiving money to Tanzania you can rely on the service of Western Union (the funds can be collected at any branch of Tanzania Postal Bank and Diamond Trust Bank) or MoneyGram (at Exim Bank branches). In general, Tanzania can be quite inexpensive if you do not choose to go on safari, trekking, scuba-diving or renting a car. It also depends on what type of accommodation you select; exclusive lodges and luxury hotel resorts are pricey.
Tipping & Bargaining:

If you intend to stay in major tourist establishments, tipping will be expected. Gratuities are also expected for the crew on safaris and trekking trips, as a "reward for a job well done". An amount of the tip depends on your appreciation of the services received. An estimation of 5-10% of the total you have paid for your tour can be considered as a tip to crew. In general, one can say that 30 US$ per day is an average tip for a guide (and a 20 US$ for a cook); a porter can get 10 US$ per day. Given amounts are for the group, not per person, and you can always give more. Bargaining is expected especially if you are buying souvenirs in tourist areas. Sometimes you can buy the item for a half or even less of the originally quoted price, if you have good bargaining skills and if enough profit remains to the seller. In local places the quoted price is usually the real one.
Major Shops, Tourist Services
Monday to Friday 8.30 a.m. to 5/6 p.m.; normally closed during lunch time from 12.30 to 2 p.m.; open on Saturday mornings with a few also on Sunday mornings.
Banks
Monday to Friday 8.30 a.m. to 4 p.m.;
Saturday until noon.
Post Offices
Monday to Friday 8.30 a.m. to 4.30 p.m.;
Saturday until noon.
Government Offices
Monday to Friday 7.30 a.m. to 2.30 p.m.;
Museums
Daily 9.30 a.m. to 6 p.m.
Note that stated business hours are general and can differ from town to town.
Shopping & Souvenirs:

Expect to bargain, as the initially offered price is usually significantly higher than the real one. Look for different woodcarvings like animal sculptures, masks, spears, combs etc.; batik and famous 'Tinga Tinga' paintings (tinga tinga is a special style of painting named after Tanzanian Eduardo Saidi Tingatinga; paintings are incredibly colorful with cartoon-like animals), traditional crafts like drums and other musical instruments, stools and metal jewellery, Maasai jewellery, Makonde helmet masks, kangas (kanga is a traditional women dress, actually a wrap, with different Swahili proverbs written on the textile).

Remember that it is illegal to buy and export ivory, rhino products, seashells and turtle shells in any form

(even simple jewellery)!
Communication:

When you want to call anyone in Tanzania, you will have to dial 255 after your country's exit code. Tanzania's International Exit Code is 000, so for calling from Tanzania, you dial first 000. Using a land phone line can be expensive (although it's getting cheaper and you can now use prepaid facilities using TTCL – Tanzania Telecommunication Company Limited – prepaid vouchers) however it is not always reliable (the line can be unexpectedly disconnected during the conversation), so you may consider another way of communication. Postal services are rather slow if you don't use airmail, which takes approximately a week to reach Europe and twice as much overseas. Postal stamps can be purchased at post offices and some larger hotels (they cost approximately a half of US$ dollar). DHL, TNT and UPS services are available in Tanzania. In the past couple of years the mobile network expanded tremendously and using roaming services could be an option for you; but do verify in advance with your mobile operator that they have a contract with one of Tanzanian mobile operators (Vodacom, Airtel, Tigo on mainland and Zantel on Zanzibar). If not, you may consider buying a Tanzanian sim-card which is fairly cheap (about 1 US$; compulsory registration upon presentation of your valid ID) and top up your account with prepaid vouchers to use for calling, SMS or mobile data; each provider offers several 24h/7day/30day "bundle" packages. Many hotels, restaurants, international airports do offer free WI-FI services for a limited time but please assure your anti-virus and anti-malware protection is updated as free internet can (unintentionally) spread viruses and malware.
Electricity:

Tanzania uses 230 V, 50 cycles, AC. Power cuts do occur although; they are not common and usually brief. In general the plugs are British three-square-pin or two-round-pin (not so common). Adapters are available.
Weights & Measures:

In Tanzania a metric system is used (kilometers, meters, liters, degrees Celsius).
People:

Tanzanians are very friendly people. Hands are shaken on every occasion; when meeting, parting, passing or receiving anything. The right hand is used. If your right hand is occupied, offer your right wrist or elbow; never offer your left hand, as it is used for wiping. The same applies for eating. Public displays of affection between the sexes does not happen! Sometimes you will see people of the same gender holding hands while walking around town; this has nothing to do with their sexual affection, it is just a normal display of a great friendship here. You can feel honored if someone of your gender makes such a display of friendship. There is no open gay scene and gay/lesbian travellers should avoid showing mutual affection. Officially homosexuality is still illegal with punishment up to 14 years in jail. Show respect with your dress, especially in Muslim areas (see also Zanzibar FAQ). Covered up (your knees and shoulders) you will attract much less harassment from touts and flycatchers and most importantly, you will not be treated as a dumb tourist! Always ask permission before taking anyone's photograph and do not feel offended if they refuse or ask money in return. Do not litter. Take only photographs and memories not bones, skins, horns, teeth, feathers and coral, shells or starfish on the coast. When in the national parks always follow the park regulations and the instructions of your ranger or guide. On safari, keep your distance from animals and remain quiet. Ask your guides about the local customs in the area you are visiting.
Health Issues:

Common diseases in Tanzania include diarrhoea, typhoid (caused by contaminated water and food), malaria (transmitted by mosquito bites – please note that not all mosquitoes carry malaria, only female Anopheles type which tend to byte in the evenings and during the night and in water areas), hepatitis A (transmitted by contaminated food and drinking water), cholera (caused by bacteria in contaminated food and water), bilharzia or schistosomiasis (transmitted by a miniature worms in lakes), sexually transmitted diseases including the HIV virus. They are all preventable and for some you can get vaccinated before traveling; but do note that some vaccination needs to be done even six months before arrival. It is recommended to consult your doctor before traveling. And do not forget to visit your dentist! If you are coming from an area where yellow fever and cholera are endemic, you will need to show a proof of vaccination at the point of entering Tanzania. Mosquito control efforts and a higher altitude of the Northern Tanzania greatly reduce the risks of contracting malaria, however malaria is still not extinct. Visitors are advised to take anti-malaria pills but if you choose not to, then take other precautions like wear long trousers and long sleeves in the evenings (light coloured; apparently mosquitoes prefer darker colours), sleep under the mosquito net and regularly use insect repellent.If you plan to go on trekking, especially to the peaks over 4000m, be aware of altitude illness and hypothermia (more in Trekking Tips), and in beach areas and even on safari protect yourself to avoid sunburn.
It is not advisable to drink water from the tap or use it for brushing your teeth, though locals consider the water to be safe. It is much safer to use bottled or purified water (1,5 litter of bottled water costs around a half of US$). Remember the saying: "If you can't cook it, boil it or peel it, then forget it." Feel relaxed in asking and checking whether or not particular vegetables, fruits, meat or whole meals are safe to eat and how were they prepared. Naturally it depends greatly where you are buying and eating your food. Modern medical services are available in all major cities and national parks. It is recommended to bring your own medical kit with you, as some of the medicines are not available at chemists. A flying doctor can be requested for emergencies in all areas (but do note that this service needs to be covered by your health insurance).
If you feel feverish, immediately look for a doctor or if on safari with us, advise us immediately so we can assist you.
Eating & Drinking:

Tanzanian cuisine is simple and tasty; portions are big and typical dishes include:
Ugali, stiff maize or cassava porridge;
Wali, cooked rice;
Chipsi, deep-fried potatoes (chips or French fries);
Chapati, a round bread cooked like a pancake;
Chipsi mayai, an omelette made with chips;
Kuku, chicken;
Samaki, fish;
Nyama choma, roast meat;
Mchuzi, meat or vegetable sauce;
Ndizi choma, fried vegetable bananas (plantain);
Mishkaki, grilled meat on a skewer;
Samosa or Sambusa, fried triangular-shaped pastry filled with a mixture of meat, onions, vegetables and spices;
Pilau, mixture of rice and spices;
Matoke, cooked banana with meat or fish and different vegetables.
On the mainland coast and Zanzibar you can enjoy fresh tropical fish, lobster and shrimps.
Larger towns have a good selection of international cuisine including Indian, Chinese and Italian restaurants. Some restaurants even serve meat from wild animals like giraffes, crocodile, zebra and antelopes; do not worry, endangered species do not appear on the menus, so bon appetite!
Vegetarians will enjoy a wide selection of exotic fruits; most restaurants cater well for vegetarians.
Price of a meal in a local restaurant vary from 1 US$ to about 5 US$. Middle-range restaurants with international cuisine offer meals from 5-30 US$; upper class will charge from 20 US$ to several hundred US$ for a meal.
Non-alcoholic drinks beside water include chai (tea), kahawa (coffee), sodas and different types of juices.
Tanzanian lager (Safari 5,5%, Serengeti 4,8%, Kilimanjaro 4,5% Tusker 4,2%) is generally good and costs from 1 to 3 US$ (depending on the size of a bottle!). The most popular bottled spirit is Konyagi (35% of alcohol), costing around 5 US$ for a 200 ml. You may want to try very tasteful papaya or banana wine!
Accommodation:

Whether you decide for safari or Zanzibar, you will have a chance to choose from different types of accommodation – from campsites and budget guest houses to top-end lodges and exclusive luxury hotel resorts. It actually depends on your budget.
Safety:

Tanzania is fairly safe and peaceful country. Remember that bigger cities and tourist areas do not attract only tourists; so do take common-sense precautions to avoid troubles as you would in any unfamiliar area. Never show off your valuables. Carry as little cash as possible and keep the rest in your money belt or even better, in your hotels' safe deposit. Passport and other documents are also safer in the safe. Ask the locals which areas are unsafe, and stay away from them. And always take a reliable taxi (recommended by the reception of your accommodation) after dark!
Begging:

Except in tourist areas like Arusha, beggars are quite rare. Mostly they are crippled, lepers, homeless young mothers with small children and street-children. Giving money only encourages begging. If you want to help give them food or donate money to the local charities.When on safari, you may encounter children by the roadside begging for pens and money; be aware that if you give them anything, they will only be encouraged to spend their days on the roadside just waiting for tourists, instead of going to school or helping their families in the village. Your donation will be more wisely used if given to the schools, hospitals etc.
History of Tanzania: Tanzania is the 'Cradle of Mankind' as it was here in Olduvai Gorge that Dr Louis Leakey discovered the fossilised remains of Homo Habilis or 'handy man', calculated to be 1.75 million years old and the ancestor of the modern man.
Tanzania was occupied by various African tribes; most recently by the Maasai from Kenya, who have retained their proud traditions. Arab merchants visited the coast some 2000 years ago and settled in Zanzibar around the eight century AD, later establishing trade routes into the interior.
The intermarriages of Arabs and local African people created a new community with their own language – Kiswahili (Swahili), whose word for a journey, safari, has become the international description of a trip into the wild!
The Portuguese established temporary settlements in the 16th century, supplemented by the Omanis in the late 17th century who developed infamous slave trade.
The first Europeans to show an interest in Tanganyika, as the mainland was then known, were missionaries of the Church Missionary Society in the 19th century, Johann Ludwig Krapf and Johannes Rebmann, who in the late 1840s reachedKilimanjaro. A number of missionary societies began to take an interest in East Africa after 1860.
The scramble for Africa by the European powers at the end of the 19th century led to occupation of the mainland by Germany although Zanzibar became a British protectorate. After the First World War, Germany was forced to surrender its territory to British.
Tanganyika achieved independence in 1961. Zanzibar became independent two years later and shortly afterwards joined with the mainland to become the United Republic of Tanzania.
Time-line History:
2.5 million BC – Homo Habilis emerges in the heart of East Africa, sticking around until 1.5 million BC.
1.75 million BC – Homo Erectus, a bigger and brighter hominid, emerges.
50.000 BC – Homo Sapiens in East Africa begin experimenting with stone tools.
10.000 BC – The New Stone Age begins when stone-making techniques and the use of fire are mastered and early communities form based on the hunting and gathering of food.
1000 BC – Agricultural techniques are introduced by people from what is known now Ethiopia; farming begins in the farmlands and Rift Valley regions of southern Kenya and northern Tanzania.
400 BC – Greek geographer Herodotus travels south from Cairo hoping to reach the source of the Nile.
100 BC – Bantu people start arriving from Niger Delta armed with iron tools; a new are of colonisation and population expansion begins.
AD 150 – Ptolemy produces a map of Africa showing the river »Nillus«, the two lakes called »Nili Paludes«, and the »Lune Montes« (the Rwenzoris or Mountains of the Moon).
500 – Arabs sail around the Horn of Africa trading ivory, gold and slaves for glass, metal spearheads and later Indian spices and Chinese porcelain.
700 – Arabs found several trading settlements on the East African coast and introduce Islam (founded by the prophet Mohamed in Arabia around AD 600) to East Africa.
1100 – Islam is now practised widely all along the coast and Swahili (a mix of Arabic and African languages) is spoken.
1300 – The large Bantu kingdom of Chwezi is established in the west of East Africa (Uganda).
1498 – Portuguese explorer Vasco de Gama sails around the Cape of Good Hope and up the East African coast.
1506 – Portuguese succeed in controlling most of the East African coast.
1500s – Nillotic people (originally from the southern Nile Valley) migrate into East Africa.
1600s – Omani ships continually threaten Portuguese trading stations and finally re-establish Arab control along the coast.
1699 – Portuguese ousted from Zanzibar by Omani Arabs.
1700s – Another wave of Nilotic people, the Maasai, spread into northern Kenya and then down the Rift Valley into Tanzania. Smaller Bantu groups as Chagga in the Kilimanjaro area, retreat to high ground for safety.
1832 – The Sultan of Oman, Seyyid Said, moves his capital and entire court toZanzibar. The slave trade flourishes.
1862 – A port of Dar es Salaam is founded by Sultan of Zanzibar.
1873 – Sultan Barghash of Zanzibar is strong-armed by the British into signing a treaty banning the slave trade.
1884 – German Colonisation Society begins to acquire territory on the mainland.
1886 – The Berlin Conference divides East Africa between Britain and Germany by drawing a line from Lake Victoria to the Indian Ocean. North of the border is British territory, to become Kenya and Uganda. South of the border is German East Africa, to become Tanzania, Rwanda and Burundi; except for a narrow piece of territory along the coast which remained the authority of the Sultan of Zanzibar, and the island of Zanzibar, which becomes a British protectorate.
1890s – Plantations of sisal, rubber, cotton, coffee and tea begin to be established.
1905-06 – Indigenous Maji Maji uprising takes place in German East Africa which is suppressed by German troops.
1914-18 – During WWI German and British forces, both made up from European and African soldiers, engage in a long campaign in East Africa.
1919 – The League of Nations gives Britain a mandate over German East Africa, who rename it Tanganyika.
1929 – Tanganyika African Association founded.
1946 – United Nations converts British mandate over Tanganyika into a trusteeship.
1919 – Julius Nyerere and Oscar Kambona transform the Tanganyika African Association into the Tanganyika African National Union.
1961 – Tanganyika gains independence with Julius Nyerere as prime minister.
1962 – Tanganyika becomes a republic with Julius Nyerere as the first president.
1963 – The Sultanate of Zanzibar gains independence.
1964 – Sultanate of Zanzibar is overthrown by Afro-Shirazi Party in a violent, left-wing revolution; Tanganyika and Zanzibar merge to become Tanzania, with Nyerere as president and the head of Zanzibar government and leader of the Afro-Shirazi Party, Abeid Amani Karume, as vice-president. The capital of Tanzania is Dar es Salaam.
1967 – Nyerere introduces ujamaa system of government to Tanzania (Arusha Declaration). It combines expects of Marxist socialism and African tradition, emphasising the importance of collectivism, nationalisation and self-reliance.
1972 – The head of the Zanzibar Revolutionary Council is assassinated. A few years later in an attempt to cement the union of Zanzibar and the mainland Nyerere authorises formation of a one-party state and creates the Chama Cha Mapinduzi (CCM, or Party of the Revolution) that still dominates Tanzania politics.
1974 – A new capital of Tanzania becomes Dodoma located in the central Tanzania. Dar es Salaam still remains an industrial and trade capital of Tanzania.
1977 –The East African Economic Community of Tanzania, Kenya and Uganda collapses, badly affecting Tanzania 's economy. The border with Kenya is closed.
1978 – Uganda invades north-western Tanzania annexing some 1200 sq km.
1979 – A Tanzanian »people's army« launches a major counter-attack and goes on to »liberate« Uganda virtually unopposed; the Ugandan capital Kampala is occupied and its President Idi Amin ousted.
1985 – President Nyerere retires and is replaced by the president of Zanzibar, Ali Hassan Mwinyi.
1992 – Tanzanian president Mwinyi, under pressure of major donors, legalises opposition parties and multiparty elections are scheduled. Economic liberalisation begins.
1995 – Tanzania holds its firs multiparty elections, which go relatively smoothly on the mainland; less so on Zanzibar. Benjamin Mkapa is chosen as a President in Tanzania's first multiparty election.
1999 – October – Julius Nyerere dies.
2000 – Benjamin Mkapa is elected for a second term, winning 72% of the vote.
2001 – Rallies and demonstrations of opposition supporters in Zanzibar and Dar es Salaam.
2001 – Huge new gold mine, Bulyanhulu, opens near northern town Mwanza, making Tanzania Africa's third largest producer of gold.
2001 – Presidents of Tanzania, Uganda and Kenya launch regional Parliament and Court of Justice in Arusha to legislate on matters of common interest such as trade and immigration.
2004 – Presidents of Tanzania, Uganda and Kenya sign protocol in Arusha over proposed customs union, intended to boost trade.